SERVICES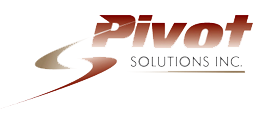 Reduce Costs
Improve Quality
Save Time
Based in Ontario, the team at Pivot Solutions can provide a
full service response from the initial consultation to the coordinate metrology (CMM) or non-contact laser scanning, as well as the computer aided design (CAD), rapid prototyping and CNC machining services to produce your project for applications across North America. Ranging from large aerospace components to small consumer items and medical components, our coordinate metrology (CMM) and laser scanning services are available both, on-site or off-site.

Working to tight tolerance levels, we specialize in digitization of irregular free-form parts with complex shapes and features. We offer quick turnaround times to meet your scheduling needs.
INSPECTIONS & VALIDATION
Producing hi-resolution and high density 3D point cloud data from laser scanning is optimal for your inspection of 1st piece manufacturing approvals, assembled parts inspection, or inspection of wear on existing dies for preventative maintenance.
REVERSE ENGINEERING
If you have parts with lost documentation or require surfacing details of a part for which there is no CAD drawing or data, let our services quickly provide you the detailed 3D virtual information you require to move your project forward. Our services are particularly essential in creating data for prototyping, object rescaling or simple duplication for redesigning purposes. You can count on Pivot Solutions to provide this critical service.
CAD SERVICES
Providing CAD services are an essential part of our added value services to you and your projects. Our experienced staff will work with you to ensure your design needs are exceeded and the work is completed accurately and on time.
3D RAPID PROTOTYPING
Utilizing FDM, SLA and SLS technology, our services can provide you with the exact physical prototype in the material that meets your requirements and adheres to your budget. This service is especially useful for conceptual designs, part verification, or fit and form analysis.
CNC MACHINING SERVICES
Depending on your product application, our team can assist you with developing the right 3D rapid prototype or part using our CNC machining services. Accurate prototypes and parts can be machined in customer specified materials so that material properties are not comprimised and smooth surface finishes are achieved.